Somerton & District Motor Cycle & Light Car Club
The club was formed in 1948 and initially ran Treasure Hunts and Road Runs. In 1952 we ran our first Scramble and Trials meetings, but it wasn't until the late 1960's that the club started running Grass Track events. Throughout the 1970's and 1980's we continued running Trials, Grass Track and Motocross, bringing us up to the present day. The club currently hold up to two Grass Tracks and multiple Trials events during the racing season for Adult and Youth competitors.
We are so sorry to hear of the death of our most famous past club member, Bryan (Badger) Goss.
Badger, who was a resident of Yetminster, was initially persuaded to try grasstrack racing by the great Lew Coffin. However, Badger fancied scrambling more, and from the late fifties progressed to become a top international scrambler.
As a Somerton club member, he rode with a club sticker on his helmet.
Badger was signed up by Cotton as a works rider in 1961, becoming a Greeves works rider from 1962-1965. He was then persuaded to join the Swedish Husqvarna works team. After several successful years on the 'Husky' he was approached by the West German Maico factory, and became their UK importer as well as riding their machines to many victories.
We send our love and sympathies to his daughter Debbie and her family, and to his son Jeffery and his family.
R.I.P. Badger, you will never be forgotten.
Badger on his Greeves M.D.S. Steart Hill 1963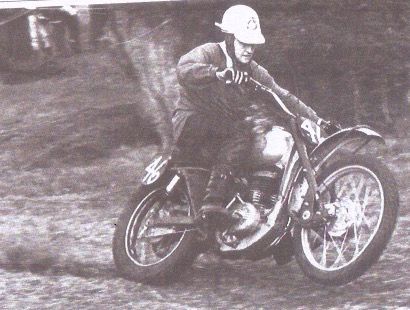 Unfortunately we are currently unable to run events, but keep checking back here for further updates.
Take care
~~~~~~~~~~~~~~~~~
If you would like to join Somerton MC please go to the 'Membership' tab for more information.
Many thanks
~~~~~~~~~~~~~~~~~
Next committee meeting - TBC
Please come along and support the club
The Ilchester Arms, The Square, Ilchester: 8pm start
~~~~~~~~~~~~~~~~~
Available to order - Somerton & District MC Hoodies and Zip Tops
Black with front embroidered club emblem and printed lettering on rear
Adult Zip Top (all sizes) - £21 + delivery
Adult Hoodies (all sizes) - £18 + delivery
Youth prices available on request
Adult and Youth T-shirt prices available on request, also some already in stock
Please email any order requests stating item and size to shelley.somertongrasstrack@hotmail.co.uk